Free shipping for ALL orders to greece
Free shipping for international orders over 350€
Free shipping for EU orders over 300€
MADE IN GREECE WITH BLESSINGS AND LOVE
Ready to find your soul mate ?
Our premium and innovative towel is lightweight, durable and made from refined cotton yarns with colored hand-stitched finishing for an extra note of luxury to attract that special one.
Very soft for a sun kissed skin with a unique texture on the top side, fast drying and highly absorbent to adjust easily to any stylish appearance and tolerance to any summer condition.
Digitally silk screened printed with hypoallergenic water based inks, bright, exuberant & eccentric colors, our towels get even better with time just like any big love.
«Romeos & Juliettes» collection depicts Greek folk warriors and womens figure motifs found in decorative tapestries such as Karpathian style Stylomantila.
Warriors and women included in a decorative tapestry, symbolize strength, passion, beauty, vigor, trust, roots, power, companionship & leadership. To empower these symbols of ancient wisdom we use unexpected color combinations.
This collection is inspired from the famous Romeo & Juliette duet in the modern age where love has no labels and genders.

This is a collection for star crossed – lovers, and every day love warriors breaking all society barriers, reminding us that all we need is unconditional love.
Choose your love(r) wisely all year long.
We ship via DHL Express all over the world. Outside the EU, taxes and duties may apply.
FREE Shipping to Greece for all orders.
FREE Shipping for EU orders above €300.
Learn more about our shipping costs →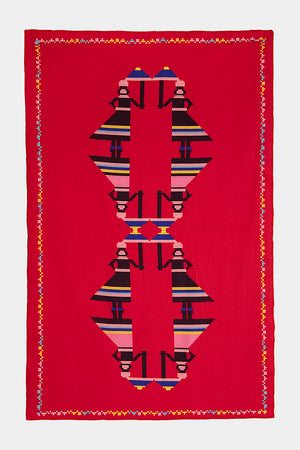 Additional Info
Weight
M - 0.550 kg
L - 0.665 kg
Dimensions
M - 150 × 100 cm
L - 180 x 100 cm
Size
M, L
Fabric weight
400g per m2
Product Details
99% cotton beach or bath towel, lightweight, with coloured hand-stitched finishing.
Digitally silk-screened with water-based inks.
Excellent color fastness to light (7).
Machine wash at 30° – 50° C.
Digitally handcrafted & produced in Greece with blessings and love
Juliette / Woman holding an umbrella
Symbol's Global Meaning
Joy / Beauty / Protection / Fertility / Empowerment / Companionship / Unconditional love / Windfalls/ Manna from heaven  
Talisman Usage
Causes sudden happenings that bring good fortune by maximizing the serendipity around you. Windfalls.
Supports the user to experience an unexpected legacy, or other gain, a Windfall    
Origin
Karpathos island
(found as part of decorative tapestries such as Karpathian style Stylomantila)
View the lexicon →