Free shipping for ALL orders to greece
Free shipping for international orders over 350€
Free shipping for EU orders over 300€
Talisman
Keep your talisman with you and be protected all year long.
See More... →
MADE IN GREECE WITH BLESSINGS AND LOVE
Shaken or stared?
Wrap yourself with our premium, eccentrically colorful and unique bathrobes, made from refined cotton yarns with colored hand-stitched finishing.
Digitally silk screened printed with hypoallergenic water based inks, bright, exuberant and eccentric colors, tolerant in any condition without color alteration.
Very soft with a unique texture on the outside, fluffy towel on the inside, fast drying and highly absorbent to adjust easily to any need.
Our "In the mood for love" collection is inspired by a folk tapestry found in the Greek Ionian islands which used to be given to newlyweds as a talisman bringing Fertility, Happiness, Abundance, Playfulness & Duality.
This motif contains all the archetypical folk symbols of prosperity! We call it the "abundance" motif as it contains all the blessings.
Ideal gift for newly weds, new home or for anyone who appreciates everyday luxuries and blessings. 
Choose your bathrobe and enjoy every "me" or "we" time all year long!
View the full product →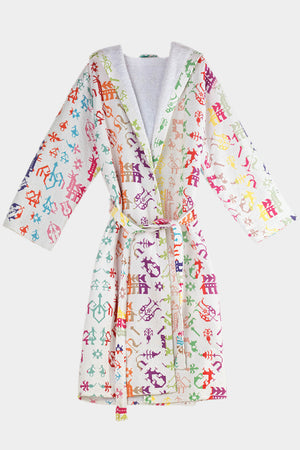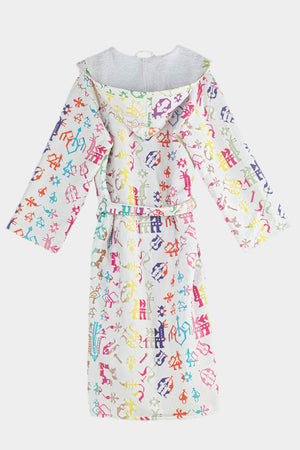 This is Postfolk,
a retro-future digital handicraft, a kind of digital embroidery, inspired by the design potential of Greek folk-art motifs, with a decidedly progressive twist.