Free shipping for ALL orders to greece
Free shipping for international orders over 350€
Free shipping for EU orders over 300€
G&T on Planet Neptune - Silk Scarf
MADE IN GREECE WITH BLESSINGS AND LOVE
Our limited scarf collection "Golfo & Tasos (G&T) - 200 years young" is made from 100% twill silk of natural fabric, hand illustrated and digitally printed with flamboyant and vivid colors for an extra note of luxury.
Wear it in many different ways, around the neck, as a belt, as a headband, as a top, as a dress, as a turban or as a decoration on bags and clothes. 

"G&T - 200 years young" collection is inspired  by the original naive Greek novel "Golfo" who was a girl that loved a boy with an undoubtable kind of love and a clear vision that love can break any rules and any social barriers even back then. Love is revolution.
"Revisiting" studio 54, feeling youthful forever, dancing all year long, liberate yourself from any limited beliefs, traveling to other planets, enjoying spiritual journeys, cutting the chords from any inherited bad luck and also celebrating everyday revolutions are only some symbolic meanings of this collection.

Be our guest  to find or create yours and feel "trippy" all year long.
We wish you nice "trips" .
We ship via DHL Express all over the world. Outside the EU, taxes and duties may apply.
FREE Shipping to Greece for all orders.
FREE Shipping for EU orders above €300.
Learn more about our shipping costs →
Additional Info
Size:
180 cm x 120 cm
Product Details
100% silk satin scarf
Digitally Handcrafted
Hand rolled hemming
Dry clean only
Cool iron the backside only
Made and Printed in Soufli, Greece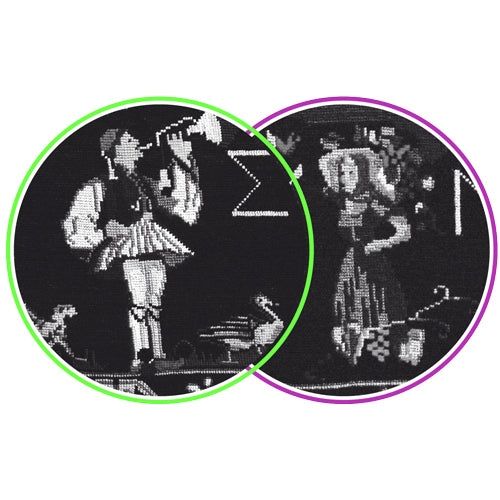 G&T the Greek iconic couple and their echos to space
Symbol's Global Meaning
Travelling virtual to studio 54 / Feeling youthful for ever / Dancing all year long / Free you from any limited patterns through family issues / Makes you a global trotter / Spiritual and physical journeys to other planets/ Cut the bad luck chords with your past / Celebrating every day revolutions & resolutions.  
Talisman Usage
Maximizes your independent & innovative spirit and multiplies your eager to travel in other planets
Keeps you insane after a war ( pandemic )
Origin
A folk embroidery found at Xylagani village located in Northern Greece.
View the lexicon →