Free shipping for ALL orders to greece
Free shipping for international orders over 350€
Free shipping for EU orders over 300€
G&T Canvas Bag - Black - Horizontal
MADE IN GREECE WITH BLESSINGS AND LOVE
Our limited canvas bag collection "Golfo & Tasos (G&T) - 200 years young" is made from natural fabric, digitally embroidered with flamboyant and vivid color yarns, signed and numbered.
Wear your stylish kind of "tagari" as a beach bag or as a travel-city and shopping bag. It's eccentric size will suit any need you can imagine. I carry my dachshund in it!
Our Golfo & Tasos (G&T) - 200 years young" Canvas Bags collection is inspired by the original naive novel "Golfo" which is about a girl that loved a boy with an undoubtable kind of love and a clear vision that love can break any rules and any social barriers even back then. Love is an everyday revolution.
Carry your bag while: Mentally "revisiting" studio 54, Meeting new friends, Dancing all year long, Traveling to other planets, Enjoying spiritual retreats or just celebrating everyday revolutions.
Be our guest to find your globetrotter self and travel all year long.
We ship via DHL Express all over the world. Outside the EU, taxes and duties may apply.
FREE Shipping to Greece for all orders.
FREE Shipping for EU orders above €300.
Learn more about our shipping costs →
Additional Info
Size:
60 cm x 50 cm
Length of the embroidery yarns:
500 m
Product Details
hand signed and numbered
100% cotton
natural color
machine wash 40-60°C
iron below 110°C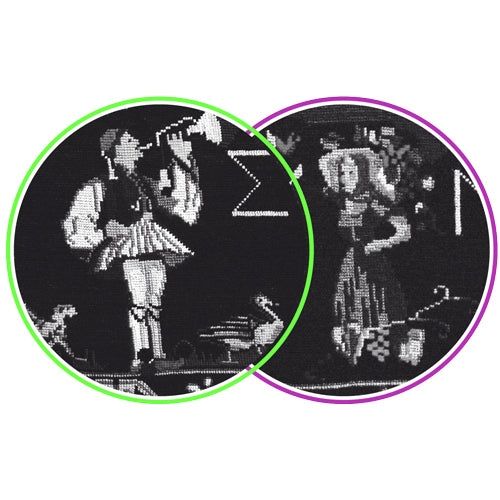 G&T the Greek iconic couple and their echos to space
Symbol's Global Meaning
Travelling virtual to studio 54 / Feeling youthful for ever / Dancing all year long / Free you from any limited patterns through family issues / Makes you a global trotter / Spiritual and physical journeys to other planets/ Cut the bad luck chords with your past / Celebrating every day revolutions & resolutions.  
Talisman Usage
Maximizes your independent & innovative spirit and multiplies your eager to travel in other planets
Keeps you insane after a war ( pandemic )
Origin
A folk embroidery found at Xylagani village located in Northern Greece.
View the lexicon →