Free shipping for ALL orders to greece
Free shipping for international orders over 350€
Free shipping for EU orders over 300€
MADE IN GREECE WITH BLESSINGS AND LOVE
Shaken or stared?
Wrap yourself with our premium and eccentrically colorful and unique bathrobes, made from refined cotton yarns with colored hand-stitched finishing.
Digitally silk screened printed with hypoallergenic water based inks, bright, exuberant and eccentric colors, tolerant in any condition without color alteration.
Very soft with a unique texture on the outside, fluffy towel on the inside, fast drying and highly absorbent to adjust easily to any need.
The "Suite collection" is inspired by peacocks, a motif that is usually found in many different forms and shapes in Greek folk culture.
Peacocks can be used as a talisman to protect a door, a house, a bed or even as part of a bigger tapestry. The most unique characteristic of peacocks is that they can transform "negative energy into light".
We use them for newlyweds to bring Immortality, Rebirth, Duality, Royalty, Awakening, Protection and Togetherness.
Protects you from accidents, toxic relationships, bad choices & breakups.
Use it as a gift for newlyweds, new couples or single friends that want to find their perfect partner.
Choose your bathrobe and enjoy every "me" or "we" time all year long!
We ship via DHL Express all over the world. Outside the EU, taxes and duties may apply.
FREE Shipping to Greece for all orders.
FREE Shipping for EU orders above €300.
Learn more about our shipping costs →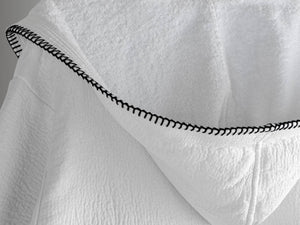 Additional Info
Weight
S/M - 1.2 kg
M/L - 1.3 kg
Size
S/M, M/L
Fabric weight
400g per m2
Product Details
99% cotton, lightweight, with coloured hand-stitched finishing.
Digitally silk-screened with water-based inks.
Excellent color fastness to light (7).
Machine wash at 30° – 50° C.
Digitally handcrafted & produced in Greece with blessings and love
Peacock
Global Meaning
Immortality / Rebirth / Duality / Royalty /Awakening / Protection / Togetherness
Talisman Usage
Protects the user from accidents, toxic relationships, unpleasant encounters breakups, and other disasters.
Transforms every negative energy into "light".
Origin
Karpathos Island
(found as part of decorative tapestries such as Karpathian style Stylomantila)
View the lexicon →